Options for accounting carbon sequestration in German forests
Carbon Balance and Management
2009
4:5
Received: 4 May 2009
Accepted: 3 August 2009
Published: 3 August 2009
Abstract
Background
The Accra climate change talks held from 21–27 August 2008 in Accra, Ghana, were part of an ongoing series of meetings leading up to the Copenhagen meeting in December 2009. During the meeting a set of options for accounting carbon sequestration in forestry on a post-2012 framework was presented. The options include gross-net and net-net accounting and approaches for establishing baselines.
Results
This article demonstrates the embedded consequences of Accra Accounting Options for the case study of German national GHG accounting. It presents the most current assessment of sequestration rates by forest management for the period 1990 – 2007, provides an outlook of future emissions and removals (up to the year 2042) as related to three different management scenarios, and shows that implementation of some Accra options may reverse sources to sinks, or sinks to sources.
Conclusion
The results of the study highlight the importance of elaborating an accounting system that would prioritize the climate convention goals, not national preferences.
Keywords
Carbon StockDiscount FactorKyoto ProtocolNational Forest InventorySequestration Rate
Background
The significance of carbon sequestration by the world's forests and forested landscapes in the climate regime is well acknowledged. Stern described in 2006 [1] the net carbon emissions from forests and forested landscapes by deforestation and forest degradation alone as comprising more than 18% of the global greenhouse gas (GHG) emissions. More recent publications indicate even higher values, e.g. the Worldbank stating in 2007: '... emissions from deforestation and degradation... now account for an estimated 18 to 25% of all global greenhouse gas emissions.' [2].
Specific methodological accounting options, however, are still under debate. Moreover, the limited availability of verified data on carbon stocks and carbon stock changes is another constraint for identifying the implications of the debated accounting options. While the calculation and assessment of past carbon fluxes due to forest management facilitates the reporting of emissions and removals of greenhouse gases under the current accounting framework under the Kyoto-Protocol [3], the prediction of future emissions and removals related to sustainable management activities can provide future guidance for political or scientific measures and initiatives on the provision of incentives for reduced emissions from deforestation and degradation (REDD) as well as for the land use, land use change and forestry (LULUCF) sector in general.
The embedded consequences of accounting options are demonstrated here for the German national GHG accounting. This article presents the most current assessment of sequestration rates by forest management for the period 1990 – 2007 and provides an outlook of future emissions and removals (up to the year 2042) related to three different management scenarios. It also underlines the importance of elaborating an accounting system primarily considering consistency with the climate convention goals rather than considering national preferences.
Results
Carbon sequestration by forestry in Germany 1990–2042
The assessed and predicted sequestration rates by forest management are illustrated in Figure
1
in Mt C/a as developed by the Framework for Integrated Environmental and Economic Accounting for Forests (IEEAF). The elaborated sequestration data are considered as the best available at the current stage and for the presented purpose. The difference between the IEEAF data and the National Inventory Report (NIR, data reported to the United Nations Framework Convention on Climate Change, UNFCCC) can be explained by the lack of more accurate data at the time of reporting: the NIR data assume a constant extrapolation based on two national forest inventories (NFI 1987 and NFI 2002). However, the NIR data are presented here in order to clarify why Germany cannot base a reliable prediction of accounting opportunities on the NIR data unless those are adjusted by more precise information and consider recent changes. For this reason, reference will be made to the IEEAF data compiled as described above.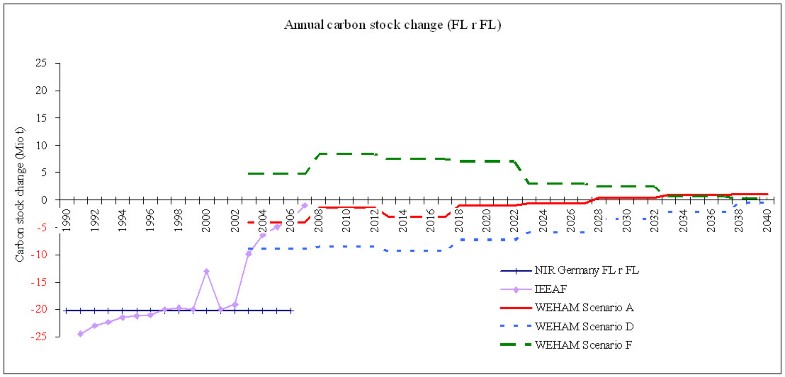 In Figure 1 the decline in carbon uptake in 2000 is obvious, which reflects emissions related to windthrow caused by the storm 'Lothar' in December 1999. The compensation of those emissions within one year is not only driven by regrowth, but reflects the effects of diverse market-based and management-based adaptation strategies as well. This shows that a single storm event like 'Lothar' may not cause severe compliance risks to Germany thanks to adaptation strategies.
Higher influence on the net emission rates has the continuous reduction of biomass stock from 2002 through 2007 and its consequence on the sequestration rate: the latter was reduced from about 20 Mt C to almost 0 Mt C in five years only. This reduction is mainly caused by market adaptations to growing timber prices but by a reduction of harvestable stands as well. The age-class effect, which results in an unbalanced high ratio of mature stands, is rather supposed to cause a disproportionally high level of emissions by harvesting in the near future. In addition, the combination of two different scenario models implies limited effects.
The different indications for the German national assessment of timber supply (WEHAM scenarios F, A and D in Figure 1) reflect the assumptions as explained above. The current data from IEEAF in 2007 indicate lower sequestration levels as predicted in WEHAM-based scenarios A and D. At the present stage of knowledge it must be assumed that a true development is most likely within in the range of scenario A and F. Scenario D is excluded from further consideration, as even under medium-term accumulation of carbon (biomass) stocks, a forested ecosystem will finally reach a saturation level where biomass gain and biomass loss is in a steady state. Considering a further increasing removal of woody biomass from forests in the near future, the orientation towards scenario F is suggested, which assumes an upcoming reduction of the area of harvestable stands, a requirement by the age-class effect and by related management (stand safety) constraints.
Additional market and policy requirements related to harvested wood products for 'clean energy' and for substituting energy-rich building materials underline the expectation of a continuous biomass reduction in the German forests within the near future. In this light, the following will reflect all three WEHAM scenarios, but consider WEHAM-based F as the reference for the prediction of accounting methodologies. Figure
2
presents the annual sequestration rates by forest management (FM) in Gg CO
2
eq./a, where the IEEAF data are combined with the data for the respective WEHAM scenarios.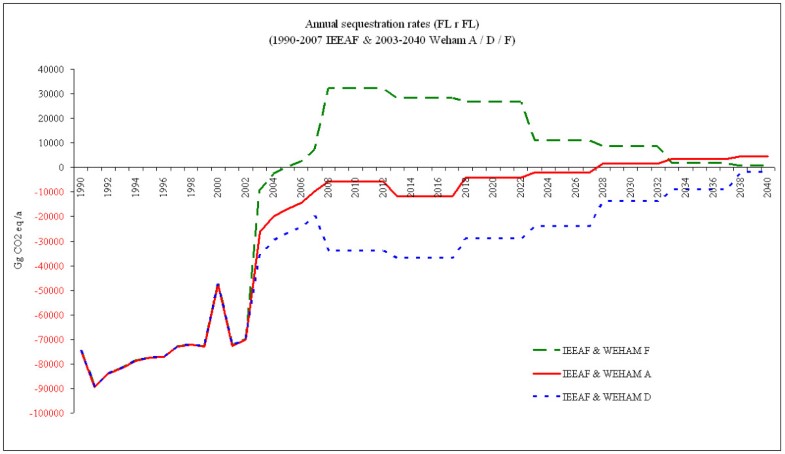 Consequences of different accounting options
Consequences associated with the choice of a reference level
In past negotiations the specification of a baseline related to a reference year was preferred. Emissions and removals in a fixed reference year may be not in accordance with the long-term levels due to exceptional events such as storm damage or market imbalances. Thus a fixed reference year can stipulate a specific, extraordinary situation and may allocate a-priori losers and winners. Specifying fixed or moving reference periods is an option for levelling out compliance risks.
The consequences of gross-net accounting (GNA) and net-net accounting (NNA) for the German forestry sector can only be explained by a detailed consideration of those respective reference levels for respective base year emissions (BYE) or base period emissions (BPE). However, under any Accra Accounting Option referring to net-net accounting (Accra Option 1B, 2, 3 and 4) of forest management, both approaches, BYE and BPE are applicable.
The emissions figures from IEEAF and WEHAM scenario F presented above are taken as an example to demonstrate the consequences of referring to BYE rather than BPE (Figure
3
). The green bars reflect the annual gross sequestration rate as it would be accounted for under GNA. The yellow and blue bars reflect the accountable emissions/removals under NNA related to the base year emission of 1990 and related to the preceding commitment period (CP-1), respectively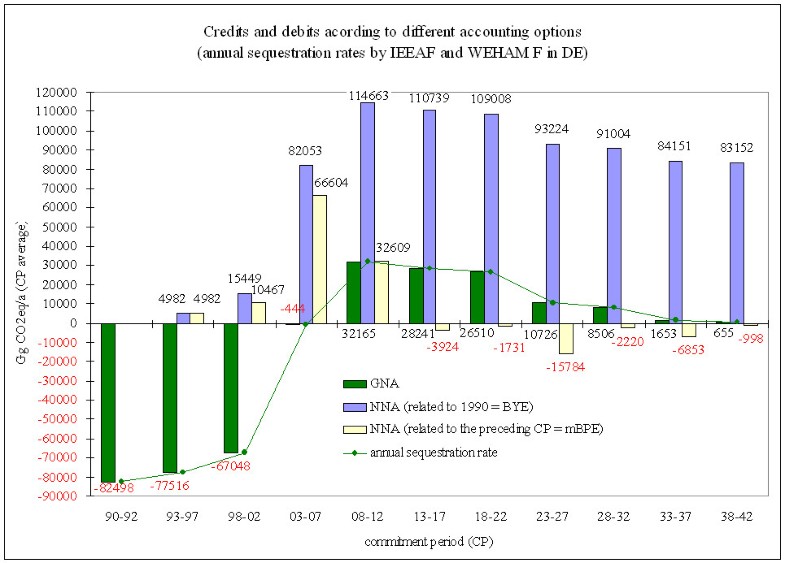 In early 1990 Germany and other European countries had to suffer from the heavy damage caused by the storms "Vivian and Wiebke". In order to regulate the timber market and to halt the decline of timber prices, the German Federal Government issued a regulation [4] that limited timber harvest for fir, spruce, oak and beech between 40 to 80% of the regular annual cut for the years 1990 and 1991. As a consequence comparably high sequestration rates were observed in 1990 and 1991. In subsequent years a continuous reduction of sequestration rates was observed, which is assumed as a consequence of the recovery of the timber market. Under GNA, net emissions from FM would need to be reported from the commitment period (CP) 2008–2012 onwards. Under NNA (when 1990 is utilised as the base year) even higher debits for every year would need to be reported. Referring to the base year 1990, which is characterised by an exceptionally low harvest rate, would enforce the reporting of debits for every foreseeable commitment period in every new CP and entail a 'punishment' for not-reaching an unrealistically high sequestration rate; no matter what efforts are taken. As selecting incidentally a specific year as reference for emissions (i.e. BYE) might result in inequitable situations for individual Parties, base period emissions (BPE) were presented as an alternative approach for establishing a reference. Base period emissions are illustrated as moving BPE based on IEEAF and WEHAM F assumptions.
Currently the best choice for a reference selection is discussed by Parties. The desire to recognise latest policy efforts and ambitions in forest management in the current CP's accounting may lead to a preference of selecting a preceding CP instead of a constantly fixed reference year. Parties can take the advantage of levelling compliance risks within the five years of a CP and relate the emissions/removals of the actual CP to values of the preceding CP by providing for e.g. natural disturbances. This guarantees for a flexible accounting system, which makes allowance for non-human induced disturbances and automatically integrates an adaptation component into the accounting system. However, the application of such a moving Base Period Emission (mBPE) referring to the preceding CP bears the risk of so-called "perverse" incentives for forest management regimes that aim at an increase of credits in future CPs. But on a long run the reference to the preceding CP is supposed to yield incentives for a stable level of optimum forest carbon stock; this holds especially true when sustainable forest management regimes are practiced.
Under NNA with mBPE (Figure 3) emissions would have to be reported in the CP 2008–2012, but in preceding CPs emission reductions are to be reported. While the age-class legacy is still visible, in CP 2013–2018 the NNA is related to the considerable emissions in the preceding period (2008–2012). Hence, the improved situation compared to CP 1 would be "rewarded" and qualify for credits. It must be noted however, that such considerations should reflect not only preferable situations for Parties, but must predominantly concern the goals of the convention. Thus, the accounting system must consider the trend in GHG emissions 'as the atmosphere sees it'.
Consequences of the integration of a cap and a discount factor
Another important method among the Accra Options is the integration of a cap or a discount factor. The objective pursued by both excludes non-human impacts (windfall profits as well as compliance risks) on LULUCF by limiting the accountable credits and debits from GNA. Another argument for constraining GNA is the avoidance of a 'too easy' compensation of other sectors' emissions by Parties which hold vast forest resources. However, the cap as well as the discount factor introduce limits to accountable credits that do reflect purely political decisions in order to provide for national circumstances (16/CMP.1, Appendix Z [
5
]) and can be interpreted as volition to attach more or less importance to the land-use and forestry sector. Figure
4
illustrates the accumulated emissions/removals from the second CP onwards relating to IEEAF and WEHAM F assumptions under GNA with cap and discount factor and (for comparative reasons) NNA with mBPE.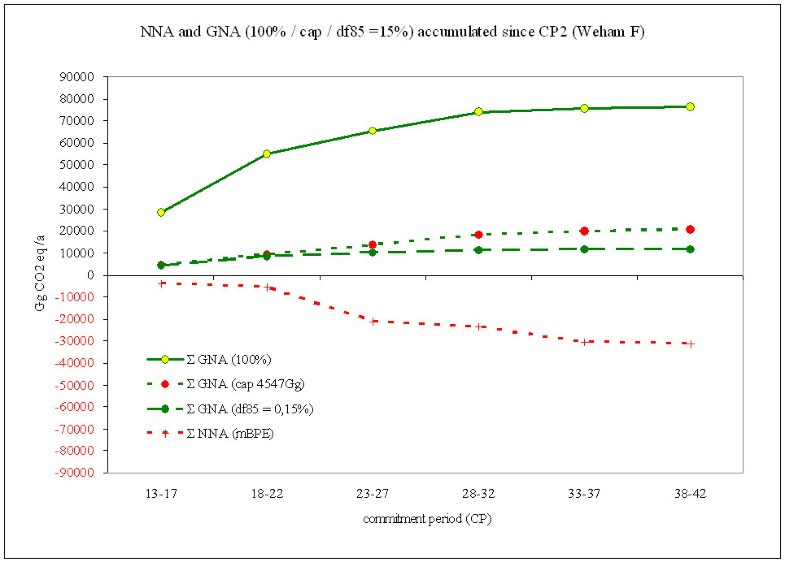 The difference between the line for unconstrained GNA and the capped GNA is simply reflecting the magnitude of 'real' (i.e. unconstrained) and constrained accountable emissions and removals. The GNA discounted by a df provides the predominant advantage of allowing incentives beyond the strict limit set by a cap. It reduces all accountable emissions or removals by a fixed proportion, which was arbitrarily set to 85% in Figure 4. By that, the smaller the emissions/removals are, the more the meaning of the LULUCF sector will be reduced. Furthermore, the magnitude of a proportional discount factor directly triggers the incentives for carbon sequestration since the discounted quantity can be directly translated into corresponding revenue losses. In case of high emissions due to disturbances or high harvest rates, accounting is restricted as well. While the Accra Option 1A includes the cap, Option 1B utilises the discount factor. Current discussions suggest a discount factor of 85%, hence allowing an accounting of only 15% of the gross emissions from FM.
For the sake of completeness, Figure 4 includes the estimates for the accumulated NNA mBPE CP-1 approach. Under the given assumptions (IEEAF and WEHAM F), the NNA mBPE approach would generate credits from the second CP onwards. As shown above, the NNA mBPE approach balances compliance risks within certain limits and reduces the accountable emissions/removal by accounting for the additional values of subsequent CPs only. This allows for accounting without artificial rules for capping or discounting. The mBPE approach, however, differs from all other accounting approaches and sectors.
Consequences associated with the choice of a net-net accounting approach
Under gross-net accounting no reference is made to emissions and removals from past commitment periods, GNA considers only the gross emissions or removals of the current commitment period. Net-net accounting relates the accountable emissions or removals to a defined reference year or reference period, by which a specific level for accountability is introduced and only "additional" efforts to exceed or failures to meet past emission/removal levels are honoured. To facilitate comparisons, Figure
5
illustrates predictions based on the three different WEHAM scenarios, each under unconstrained GNA and NNA mBPE.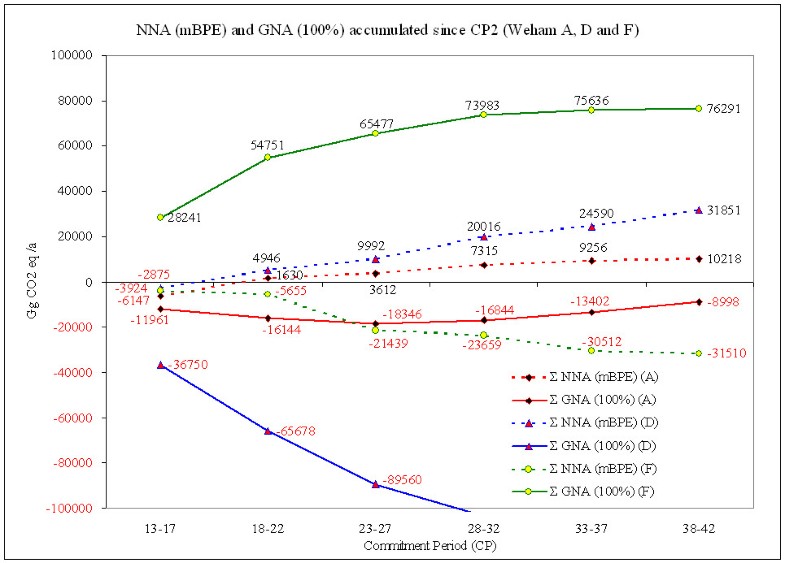 While WEHAM scenario D (rotation period extended by 20 years) does provide the highest amounts of credits over time under GNA, it does not provide any credits under NNA. However, the accumulation of such high stock levels as stipulated by WEHAM scenario D is – not only for reasons of stand security – unlikely in the intensively managed forests in Germany.
Under WEHAM scenario A (base scenario), more credits would be accumulated under unconstrained GNA than NNA. In case a cap or discount factor is introduced, those gains by GNA are reduced as demonstrated in Figure 4. WEHAM scenario F (reduced growing stock) is the 'more likely' scenario under consideration of forest management and expected market development. The NNA mBPE under this scenario is the alternative creating most credits for accounting in the long run.
Discussion
The findings presented above show clearly that the approach utilised for carbon budgeting defines the amount of emissions and reductions from forests that qualify for accounting. It is quite striking to note that approaches do only partly reflect the true situation of carbon sequestration and emissions by forests and may reverse sources to sinks and vice versa.
Further on, the possibility of selecting different activities under Kyoto Protocol (KP) Art. 3.3 and Art. 3.4 allows further manipulation of national emission budgets to be accounted for. While accounting for activities under KP Art. 3.3 (afforestation, reforestation and deforestation) is mandatory, activities under KP Art. 3.4 (forest management, grassland management and cropland management) can be voluntarily applied by Parties. Only the "zero-option", i.e. no more KP Art. 3.4 accounting despite prior election, does not exist unless the overall accounting rules according to decision 16/CMP.1 on LULUCF are changed – which is not to be expected at the current state of negotiations.
"Accra Option 4" aims at dissolving that problem by replacing activity-based accounting with mandatory land based accounting through combining KP Art. 3.3 and Art. 3.4. Such a land-based accounting approach would serve the integrity of the accounting system. As Parties already have to report emissions from all activities, a land-based accounting would not even necessarily imply an additional burden on the reporting system.
Conclusion
The choice of the different components of an accounting system establishes from the outset the magnitude of emissions and removals that qualify for accounting. Parties might opt for their "optimal" choice by referring to predictions of the future development of carbon stocks in forests and the accountable credits and debits. While those predictions may well represent the future development of forest growing stock based on past evidence there is uncertainty about future political, societal and economic variables and their impact on forest management objectives. An option to absorb uncertainties about future timber utilisation rates is the recognition of harvested wood products (HWPs) and their direct and indirect substitution potential in future accounting schemes. However, in order to avoid "perverse" incentives and penalisation the design of flexible and objective schemes for accounting carbon sequestration in forestry remains a major challenge.
The implications of the different accounting options on the magnitude of accountable net-emissions demonstrated the substantial influence of the methodology on results. The choice of the different components of an accounting system establishes from the outset the magnitude of emissions and removals that qualify for accounting.
This insight again underlines the importance of elaborating an accounting system primarily considering consistency with the climate convention goals rather than considering national preferences.
We hope that the findings presented in this paper may support the elaboration of a broadly accepted accounting system and facilitate political negotiations.
Abbreviations
agb:

above ground biomass
ARD:

Aforestation
Reforestation:

and Deforestation
Bgb:

below ground biomass
BPE:

base period emissions
BYE:

base year emissions CP: commitment period
FL:

GL, CL, WL, S, OL: forest land, grassland, cropland, wetlands, settlements, and other land
FLB:

forward looking baseline
FM:

GM, CM and RV: forest management, grassland management, cropland management and revegetation
Gg CO2eq.:

Gigagram CO2-equivalent (1 Gg = 1000 t)
GHG:

Greenhouse gas
GNA:

gross-net accounting
GPG:

Good Practice Guidance
HWP:

harvested wood product
IEEAF:

Framework for Integrated Environmental and Economic Accounting for Forests
IPCC:

Intergovernmental Panel on Climate Change KP: Kyoto Protocol
LULUCF:

Land Use, Land Use Change and Forestry
mBPE:

moving base period emissions
NFI:

National Forest Inventory
NIR:

National Inventory Report
NNA:

net-net accounting
REDD:

Reducing Emissions from; Deforestation and Degradation
UNFCCC:

United Nations Framework Convention on Climate Change
WEHAM:

Waldentwicklungs- und Holzaufkommensmodellierung (German national assessment of timber supply).
Authors' Affiliations
(1)
Johann Heinrich von Thünen Institute (vTI), Federal Research Institute for Rural Areas, Forestry and Fisheries, Institute for World Forestry, Hamburg, Germany
Copyright
© Krug et al; licensee BioMed Central Ltd. 2009
This article is published under license to BioMed Central Ltd. This is an Open Access article distributed under the terms of the Creative Commons Attribution License (http://creativecommons.org/licenses/by/2.0), which permits unrestricted use, distribution, and reproduction in any medium, provided the original work is properly cited.