Carbon sequestration via wood burial
Carbon Balance and Management
2008
3:1
Received: 29 October 2007
Accepted: 03 January 2008
Published: 03 January 2008
Abstract
To mitigate global climate change, a portfolio of strategies will be needed to keep the atmospheric CO2 concentration below a dangerous level. Here a carbon sequestration strategy is proposed in which certain dead or live trees are harvested via collection or selective cutting, then buried in trenches or stowed away in above-ground shelters. The largely anaerobic condition under a sufficiently thick layer of soil will prevent the decomposition of the buried wood. Because a large flux of CO2 is constantly being assimilated into the world's forests via photosynthesis, cutting off its return pathway to the atmosphere forms an effective carbon sink.
It is estimated that a sustainable long-term carbon sequestration potential for wood burial is 10 ± 5 GtC y-1, and currently about 65 GtC is on the world's forest floors in the form of coarse woody debris suitable for burial. The potential is largest in tropical forests (4.2 GtC y-1), followed by temperate (3.7 GtC y-1) and boreal forests (2.1 GtC y-1). Burying wood has other benefits including minimizing CO2 source from deforestation, extending the lifetime of reforestation carbon sink, and reducing fire danger. There are possible environmental impacts such as nutrient lock-up which nevertheless appears manageable, but other concerns and factors will likely set a limit so that only part of the full potential can be realized.
Based on data from North American logging industry, the cost for wood burial is estimated to be $14/tCO2($50/tC), lower than the typical cost for power plant CO2 capture with geological storage. The cost for carbon sequestration with wood burial is low because CO2 is removed from the atmosphere by the natural process of photosynthesis at little cost. The technique is low tech, distributed, easy to monitor, safe, and reversible, thus an attractive option for large-scale implementation in a world-wide carbon market.
Keywords
Carbon SequestrationForest FloorCarbon PoolCoarse Woody DebrisDead Wood
Background
Atmospheric CO2 concentration has increased from 280 to 380 ppmv (parts per million by volume; a 35% change) since pre-industrial time, largely due to carbon emissions from anthropogenic fossil fuel burning and deforestation [1]. The emission rate of carbon from fossil fuel (oil, coal and gas) consumption is currently about 8 GtC y-1 (1015 g of carbon per year) [2] while the deforestation rate for the 1990s is estimated to be 1.6 (0.5–2.7) GtC y-1. The cumulative fossil fuel emission since 1800 is 330 GtC, but only about half of that remains in the atmosphere; the remainder absorbed by carbon sinks in the ocean and on land [1].
Fossil fuel emissions are projected to reach 9–20 GtC y-1 by 2050 in the absence of climate change policies, according to a range of emissions scenarios [3]. Depending on how the current carbon sinks change in the future, the atmospheric CO2 concentration for the Special Report on Emissions Scenarios (SRES) A2 emissions scenario is between 450–600 ppmv by 2050, and 700–1000 ppmv by 2100, and global mean surface temperature may increase between 1.5–5.5°C [4], with related changes in sea-level, extreme events, and ecosystem shifts. Scientists have argued that severe consequences will occur once atmospheric CO2 concentrations reach between 450 and 600 ppmv [5–7]. Beyond this point, global climate change would be very difficult and costly to deal with [8].
Keeping the atmospheric CO2 concentration below 450–600 ppmv poses an unprecedented challenge to humanity. There are two main approaches: (1) to reduce emissions; (2) to capture CO2 and store it, i.e., sequestration. Since our economy depends heavily on fossil fuel, which comprises more than 80% of primary energy use, to reduce carbon emissions requires drastic changes in energy use efficiency and the use of alternative energy sources that are generally not economically competitive at present [9, 10]. Even if advanced technologies such as hydrogen power and nuclear fusion become economical, the infrastructure switch will take many decades. It is thus very likely that at least some carbon sequestration will be needed in the near future to keep CO2 below a dangerous level.
Carbon sequestration involves two steps: (1) CO2 capture, either from the atmosphere or at industrial sources; (2) storage. Capture out of the atmosphere is assumed to be much more expensive because of the low CO2 concentration in the atmosphere relative to N2 and O2. For this reason, most current proposals seek to combine capturing CO2 with power generation, with several pilot power plants planned or underway [11]. The proposals for storing captured CO2 include pumping it into deep ocean where CO2 may react with water under the high pressure to form methane hydrates [12] or stays in CO2 lakes, burying carbon inside deep ocean sediments where conditions are even more stable than ocean bottom [13]. The technique that has been most seriously considered, is to store captured CO2 in geological formations such as old mines and deep saline aquifers [14]. There is also a spectrum of biospheric carbon sequestration methods, such as enhancing oceanic plankton productivity by iron fertilization, reforestation or altering forestry and agricultural management practices to maximize carbon stored in soil and vegetation, but the potential and permanence of these biospheric techniques have been unclear.
Here I suggest a biospheric carbon sequestration approach in which wood from old or dead trees in the world's forests is harvested and buried in trenches under a layer of soil, where the anaerobic condition slows the decomposition of the buried wood. This can be supplemented by selective cutting of other suitable trees. On the storage side, high-quality wood can also be stored in shelters for future use. In this technique, CO2 capture is done by the natural process of photosynthesis, and storage is low tech and distributed, thus attractive in two important aspects: cost and safety.
Discussion
Potential issues
1 Decomposition of buried wood
Because of the low oxygen condition below soil surface, the decomposition of buried wood is expected to be slow. This is supported by the observation of extremely slow decomposition of woody material such as furniture in landfills where wood products are found to be well preserved after many years of burial by Micales and Skog [17]. Indeed, these authors found that only 0–3% of the carbon from wood are ever emitted as landfill gas after several decades, and considered the remaining fraction locked away 'indefinitely'. Ancient wood can be preserved for thousands of years in undisturbed archeological sites. Indeed, the current proposal can be viewed as creating 'graveyards' for dead trees worldwide. In the boreal forests where the temperature is low, decomposition can be very slow as evidenced by tree trunks hundreds of years old on the boreal forest floor. Since decomposition rate is also function of moisture, the burial sites need to be chosen properly in consideration of local topography and hydrology. If needed, the decomposition could be further slowed by sealing the outer layer with resistant material such as wax. It is also possible to bury dead wood in wetlands or under water, but there will be major transportation cost, availability of suitable sites, and permanence issue in face of human activities and climate change.
The 0–3% range of decomposition rate [
17
] translates into an e-folding timescale of 1000 years to infinity, assuming a 30 year average age for landfills in their survey. If these burial sites are better protected through, e.g., thicker soil cover, the preservation would last even longer. Thus, we can slow down the decomposition rate of collected wood at least to the timescale of 1000 years (most likely longer) so that the release of this buried carbon pool is negligible compared to forest regrowth uptake in response to collection/cutting that occur on the timescales of decades. If the buried carbon comes out slowly over the timescale of thousands of years, it should have already passed the major peak of atmospheric CO
2
as the anthropogenic CO
2
'pulse' is absorbed into the deep ocean and the carbonate sediments (Fig.
7
; [
30
]).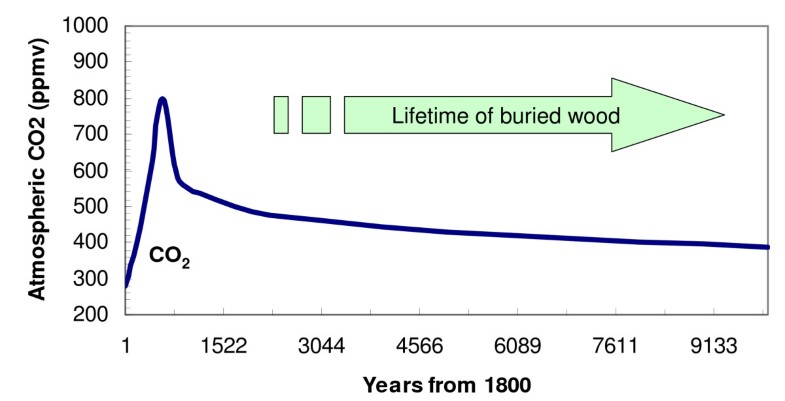 Depending on the burial depth, the deep roots of trees re-growing on some burial sites may eventually invade into the trench and facilitate the decomposition of buried wood so that the nutrient and carbon will slowly return to the surface and the atmosphere. Although the vegetation could be made not to re-grow above the trench, or the buried wood could be insulated from the top soil by a layer of resistant material, re-growth might be more desirable than 'permanent' burial (tens of thousands of years or longer). Thus the way wood is buried will determine the decomposition rate, and can be managed to desired effect. Long term monitoring and research of representative sites will be useful for finding optimal burying methods.
2 Nutrient lockup
One potential drawback of wood burial is that nutrient in wood will be locked away. The same drawback also applies to other methods of large-scale vegetation use such as biofuels. This is a serious concern because nutrients may already be a limitation for plant growth in some forest ecosystems. Plants recycle a major part of the nutrient in dead material. This is especially so in the tropical rainforests where the recycling is so efficient that most of the nutrient is locked in live and dead trees rather than in the soil. If a major fraction of the nutrient becomes locked up by buried wood, the forest growth could be severely limited after some decades so that the strategy becomes unsustainable. Here I use nitrogen as an indicator of nutrient for analysis.
Fortunately for our purpose, the nutrient content in wood is much smaller than in leaves and fine roots. For instance, typical carbon to nitrogen ratio (C:N) is 20:1 for leaves, but 200:1 for wood [31, 32]. This is fundamentally because the structural components of plants consist mostly of lignin-cellulose complexes which are carbohydrates, i.e., C, O and H, while nutrients are concentrated in the photosynthetic and metabolic components such as chlorophyll and protein.
The magnitude of this potential problem can be viewed in two ways. First, because leaf turnover rate is comparable to wood turnover (above), but the C:N ratio is 10 times larger, so that the nitrogen recycling rate in leaves and fine wood is more than 90% faster than that in the coarse wood, even though the total amount of nitrogen in wood may not be too different from that in leaves. The fact that tropical rainforest is extremely quick at 'grabbing' whatever nutrient is on the forest floor suggests the great ability of forest at utilizing what is on the ground.
The ultimate question is whether internal fixation and external input are fast enough to compensate for the loss rate due to burial lockup. If 10 GtC y-1 of carbon is to be buried, a C:N ratio of 200 implies that about 50 MtN y-1 (Mega tonnne or 1012 gram of nitrogen per year) will be locked up in the buried wood. Although 50 MtN y-1 is a nontrivial amount, this is only a fraction of both the global natural nitrogen fixation rate of 110 MtN y-1 and the anthropogenic N (mainly from fossil fuel burning and fertilizer use) deposition rate of 140 MtN y-1 [33]. In addition, natural fixation rate may increase when nitrogen is in short supply. Thus, globally speaking, the nutrient lock-up due to burial does not appear to be a problem big enough to hold back the wood burial proposal. However, it will depend on the spatial distribution and the fraction of the nitrogen deposition that can be utilized [34]. Our current understanding of such issues is limited, and more research in this area is needed. In some regions or localities this may be a more important issue. In these cases, some moderate fertilization could be used to alleviate the problem, or the intensity of the operation could be reduced.
3 Habitat loss
Dead wood, whether standing (snags) or down, plays an important role in forest ecology, acting as habitat for animals such as cavity-nesting birds, plants and microbial lives. To minimize the impact, it may be desirable not to completely clean the forest floor, but leave a fraction to maintain these important ecological functions.
4 Disturbance to forest floor and soil
Although modern forest logging practice has shown that disturbance can be kept at minimum, there is no guarantee it will be the case when practiced world-wide. If not executed properly, it may harm forest regeneration capability, biodiversity and cause significant loss of soil carbon. One method is to have ecological monitoring and carbon accounting conducted together by certified agencies or institutes following carefully crafted international standards.
The soil carbon pool is a dynamic balance between dead vegetation input and decomposition. If the deadwood input to soil is reduced, the soil carbon pool will decrease somewhat. It is difficult to quantify this possible loss at present. Regardless of the extent of this soil carbon loss, equilibrium will be reached after sometime so that the cumulative effect of a sustainable wood burial will eventually exceed the initial loss.
5 Competition with other wood usage
Wood has been a major resource for humans ever since our ancestors learned to use fire and sticks. Current world total wood consumption is about 0.9 GtC y-1 [35]. Obviously, priority will be given to these uses such as furniture and building material, but compared to the 10 GtC y-1 coarse wood production rate, there will be large additional capacity for carbon sequestration. Indeed, the burial scheme may be carried out most naturally as an expansion of the existing logging capacity. In addition, if old furniture and building lumbers are buried rather than left to decay in open dumps, they will still serve the purpose of carbon sink. This has already been practiced to some extent in landfills.
Research is ongoing in cellulosic biofuel where cellulose in woody material is converted to fuel [36]. Should this become economical with minimum environmental impact in the future, obviously it will have priority over wood burial because of the energy produced. This can also be said for other uses such as co-firing of wood chips and agricultural residue with coal. Nevertheless, the capacity built for wood harvest and burial will lend itself naturally to collecting wood for biofuel use. The 10 GtC y-1 wood production rate also provides an (approximate) upper limit on how much biofuel can be produced, and the caveats discussed here such as nutrient lock-up also apply.
6 Other unintended consequences
One possibility is that if roads are built into remote forests, it will make it easier for deforestation. What has happened in the Brazilian Amazon over the last 3–4 decades where deforestation (legal and illegal) follows road construction cautions against the implementation of wood harvest and burial in such regions. For this and many other environmental concerns, a considerable fraction should be preserved and left completely natural. A wise strategy would be intense management of suitable land to achieve higher efficiency while preserving as many forests in their natural states as possible.
There may be the concern that wood burial (or any other effective carbon sequestration scheme) will hinder the motivation to reduce emissions and the development of alternative energy. While this is a legitimate and important concern, there is currently a major mismatch between the urgency of the climate problem and the slow pace of the transition toward a carbon-neutral economy due to technological, economical and political hurdles. Carbon sequestration should only be used to 'buy time' so that the society has sufficient lead time to adjust while avoiding dangerous climate change.
Synergy with other activities
1 Reforestation and afforestation: making the carbon sink long-lasting
Reforestation is a widely embraced carbon sequestration technique [37, 38]. However, its capacity in sequestering carbon is limited by competition with other land use purposes such as agriculture. In addition, as forest and underlying soil mature, the carbon sink becomes saturated. If the trees are cut or burned by fire, the stored carbon would be lost back into the atmosphere. Such concerns had led to a disappointingly small role of reforestation in the Kyoto Protocol under the United Nations Framework Convention on Climate Change (UNFCCC). Wood harvest and burial comes most naturally to such forests because they are by definition managed. Reforestation followed by wood burial will extend the lifetime of such land carbon sink indefinitely. Because much marginal land suitable for reforestation is currently not utilized, the earlier such activities are undertaken, the earlier is the effect.
2 Deforestation: cutting off the CO2 source
Deforestation currently accounts for a significant fraction of the anthropogenic CO2 emissions (0.5–2.7 GtC y-1; [1]). While mid-latitude regions such as China, India, Western Europe and North America were mostly deforested in earlier centuries, current deforestation takes place mainly in the tropics, notably the Amazon and Southeast Asia. Deforestation at the southern Amazon is typically done at the end of the dry season. Trees are cut, piled up and burned, often with the help of kerosene. While development pressure makes deforestation difficult to stop at present, burying the downed trees instead of burning will reduce the associated CO2 emissions at minimum cost. Such a strategy is not in defense of deforestation, but serves to reduce its negative impact.
3 Post-consumer wood: making waste a carbon sink
A large fraction of municipal waste is wood, e.g., old furniture and construction lumber, and backyard dead trees. Most of these are burned or buried in landfills where they may already have relatively long lifetime. If these can be collected and buried in landfills with long-storage time ensured, it will serve as a carbon sink of up to 1 GtC y-1 assuming the current wood use rate [35]. This is of course part of the estimated 10 GtC y-1 world potential. One advantage of burying waste wood is that there will be no additional ecological impact, unlike wood harvest from the forest. Because it already carries significant cost to handle the waste wood, burial for carbon sequestration should be even more economically viable. On the other hand, such wood could also be incinerated to produce energy and their costs and relative merits need to be evaluated, but the wastes do not have to be wasted anymore.
4 Fire suppression: burying the fuel
Fire suppression, such as in the US and Canada over last several decades, has left a large amount of dead vegetation on the forest floor and contributed to an apparent carbon sink in North America. This additional fuel load, combined with recent drought in the America West has led to more frequent and large fires in recent years. The release of this carbon pool through catastrophic fires may become an important source to atmospheric CO2 in the future. Collecting dead trees and burying them would reduce fire danger while creating a carbon sink.
Conclusion
Coal was formed by the burial of ancient plants in anaerobic conditions such as swamp and peatland. The proposed wood burial method is essentially a first step of a fossil fuel formation process, only drastically accelerated by active human management. It is ironic that the whole climate change problem is caused by the human accelerated release of the fossil fuel carbon pool. Thus it will not be surprising if this method turns out to be the most 'natural' way to undo fossil fuel CO2 emission.
The wood burial technique uses natural tree growth to capture CO2 from the air at nearly no cost, thus making it significantly more economical than other carbon capture methods. For storage, past focus has been on geological formations and in the ocean. Storing carbon by wood burial under soil will not only cut down atmospheric CO2, but also relieve the CO2 burden on the ocean where acidification is of major concern [39]. The traditional carbon sequestration techniques tend to be industrial scale, while the present proposal is a distributed approach. This has both advantages and disadvantages that need to be sorted out. It is likely that many of these methods will be practiced to some degree, but the merits of wood burial make it an attractive option: low tech, low cost, distributed, easy to monitor, safe, reversible, thus a no-regret strategy. On the other hand, forest is a precious resource Mother Nature endowed upon us that serves many critical ecosystem functions and human needs. Care needs to be taken in pursuing such a strategy at large scale.
Declarations
Acknowledgements
I thank the students from the class 'AOSC586A: Carbon Cycle and Climate' in the spring of 2006, including J. Gregg, H. Qian, D. Love, R. Pavlick, A. Cohn, and B. Shui; and the students from the Gemstone Carbon Sink team and their 'advisors' B. Zaitchik, J. Gregg, B. Cook, and S.-Q. Wang. Doug Love showed me the landfill in Greenbelt, MD. Jay Gregg proofread the manuscript. I also thank A. Cowie and D. Nepstad for an inspirational discussion on landfill, G. J. Collatz, L. Heath and E. Matthews for discussion on coarse woody debris, F. Norbury for discussion on fire, and H. Sloan for explaining his logging calculator. Comments and suggestions from six anonymous reviewers helped to improve the manuscript.
Authors' Affiliations
(1)
Department of Atmospheric and Oceanic Science and Earth System Science Interdisciplinary Center, University of Maryland, College Park, USA
Copyright
© Zeng; licensee BioMed Central Ltd. 2008
This article is published under license to BioMed Central Ltd. This is an Open Access article distributed under the terms of the Creative Commons Attribution License (http://creativecommons.org/licenses/by/2.0), which permits unrestricted use, distribution, and reproduction in any medium, provided the original work is properly cited.