Savanna burning methodology for fire management and emissions reduction: a critical review of influencing factors
Carbon Balance and Management
2016
11:25
Received: 1 August 2016
Accepted: 7 November 2016
Published: 16 November 2016
Abstract
Savanna fire is a major source of global greenhouse gas (GHG) emissions. In Australia, savanna fire contributes about 3% of annual GHG emissions reportable to the Kyoto Protocol. In order to reduce GHG emissions from savanna burning, the Australian government has developed and approved a Kyoto compliant savanna controlled burning methodology—the first legal instrument of this kind at a global level—under its Emission Reduction Fund. However, this approved methodology is currently only applicable to nine vegetation fuel types across northern parts of Australia in areas which receive on average over 600 mm rainfall annually, covering only 15.4% of the total land area in Australia. Savanna ecosystems extend across a large proportion of mainland Australia. This paper provides a critical review of ten key factors that need to be considered in developing a savanna burning methodology applicable to the other parts of Australia. It will also inform discussion in other countries intent on developing similar emissions reduction strategies.
Keywords
Kyoto ProtocolEmissions reduction fundsCarbon accountingSavanna burning
Background
Savannas, tropical and sub-tropical vegetation formations with continuous grass cover and occasional trees and shrubs [1], extend over more than 16% of the world's land surface and contribute some 30% of total land-based net primary production [2]. The savanna biome is maintained by fire but, at the same time, fire is also a major source of global greenhouse gas (GHG) emissions. In tropical and subtropical regions (38°N–38°S), fire alone is responsible for emissions of about 4 PgC/year, the equivalent of ~10% of net primary productivity (NPP) in these areas [3]. About 50% of these emissions are attributable to Africa, 15–27% to South America and about 10% to Australia [3, 4]. Projected climate change is likely to further escalate fire related emissions from savannas, due mainly to changes in weather related attributes (temperature, rainfall, relative humidity, wind speed and solar radiation) and fuel related attributes (fuel load and moisture content) [5, 6].
In Australia, tropical savannas cover an area of about 2 million km2, over a quarter of the Australian continent [7], and represent about 12% of the world extent of tropical savanna ecosystems [8]. Subtropical savannas are also patchy in their distribution; hence, their overall extent is even greater. Savanna fire is one of the major contributors of national GHG emissions in Australia, accounting about 3% of annual emissions reportable under the Kyoto Protocol [9]. At a global level, Australia is ranked third for the amount of GHG emissions from savanna fire [10]. Hence, reducing emissions from savanna burning is of national interest in Australia. In addition to fire, biomass carbon in savanna systems is recycled through grazing and microbial decomposition.
Cattle grazing is one of the major land uses in savanna regions [8]; however, the role of grazing in fire management is a debatable topic. While grazing may decrease some of the combustible herbs and grasses, it also promotes woody shrubs and scrubs which are prone to crown fires [11, 12]. Hence, the role of grazing in fire management is of uncertain efficacy and is not an eligible activity under the current methodology [13].
Decomposition of leaf litter by microorganisms results in both lower GHG emissions and release over a longer period of time than does burning [14]. Complex mutualistic mechanisms among soil microorganisms further aid reduction in GHG emissions. For example, CH4 released by subterranean termites during the digestion of plant material is re-absorbed by bacteria in the soil [14]. Therefore, developing a strategy which reduces fire frequency and better harnesses these processes would result in more litter being decomposed/consumed via the microbial pathway and a reduction in GHG emissions [15]. Early dry season (EDS) burning or strategic prescribed burning has been found to be most effective in this regard as late dry season (LDS) fires emit 52% more emissions per unit area than do EDS fires [16].
Realising the benefits of EDS burning, the Australian government has developed and approved a Kyoto compliant savanna burning methodology under its emissions reduction funds (ERFs), allowing farmers and land managers to earn carbon credits by reducing methane and nitrous oxide emissions on the land [13, 17]. These credits can then be sold to the Australian Government, by participating in a reverse auction, or to people and businesses wishing to offset their emissions. In fact, this is the first legal instrument of this kind globally. The Paris Agreement, backed by 195 countries, has committed (non-bindingly) to assist poor developing countries for their mitigation and adaptation efforts with financial support of US$100 billion per annum by 2020 [18]. In this context, many savanna fire prone developing countries in Africa and South America, which collectively account for about 65–77% of total savanna burning emissions, may want to develop similar methodologies in order to receive carbon benefits.
The current savanna burning methodology in Australia applies only to areas of northern Australia which receive, on average, more than 600 mm of rainfall annually (Fig.
1
). The methodology is separated into two different parts and covers two rainfall zones: (1) low annual average rainfall zone (600–1000 mm) with a land area of 472,326 sq km; and (2) high annual average rainfall zone (>1000 mm) with land area of 711,765 sq km [
11
,
15
]. As such, the methodology only applies to about 59% of the 2 million km
2
area of tropical savannas in Australia and 15.4% of Australia's total land area (7,692,000 sq km). Many patches of sub-tropical and temperate grasslands, savannas and shrublands in Australia are not covered under this methodology. Moreover, the current methodology is applicable to only nine vegetation fuel types and cannot be applied to other vegetation fuel types in Australia. This study identifies those factors that need to be considered to enable a savanna burning methodology to be developed for southern parts of Australia (i.e. those parts of Australia where the current 'northern Australia' savanna burning methodology does not apply), in general, and sub-tropical and temperate grasslands, savannas and shrublands, in particular, which exhibit different vegetation fuel types and are subject to different climatic conditions. These aspects constitute the bulk of our paper's contribution towards greater understanding of the issues relevant to developing a comprehensive savanna burning methodology.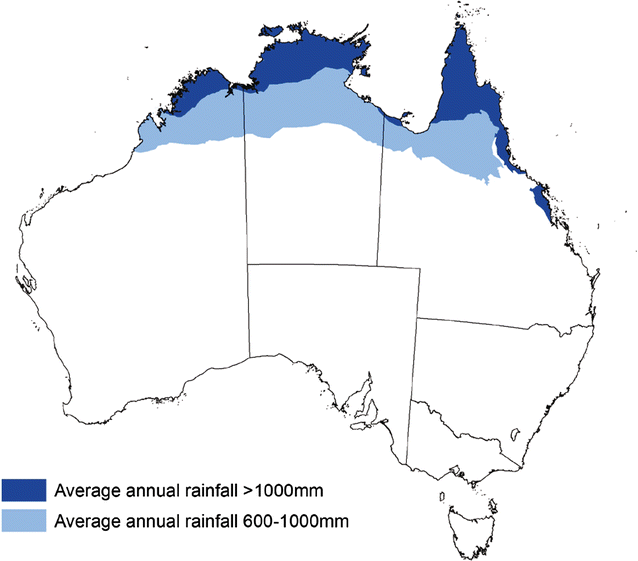 The developed Australian Government methodology for northern Australian savannas provides some insights for African and South American countries wishing to develop similar savanna burning methodologies. This review, which critically discusses several critical factors for broader application, could provide new insights to aid their understanding and application. In this paper, we briefly discuss the magnitudes of GHG emissions from Australian savanna burning and then provide a brief snapshot of the current Australian Government savanna burning methodology. Finally, we review the 'savanna burning' related literature (journal papers, reports, book chapters) from Australia and elsewhere, where possible, and identify critical factors for extension of the savanna burning methodology to other parts of the world. While searching for relevant literature from online databases and websites, we used the following key words: "savanna", "fire", "burning" and "emissions".
Conclusions
Savannas occupy about one-sixth of global land area and is maintained by fire, yet fire is also a major source of global emissions. If savanna fire is managed properly, a large portion of these emissions can be avoided. Several domestic and international voluntary and mandatory emissions reduction approaches are in place to reward emissions reduction activities. The Australian government is at the forefront in this area and has developed a credible savanna burning methodology for tropical parts of Australia which has been taken up by landowners in order to receive Australian Carbon Credit Units under the Australian Government's Emission Reduction Fund.
This review provides new insights and understanding of the current savanna burning methodology and the issues associated with extending it to other savanna landscapes across Australia. Firstly, the development of a similar methodology for savanna burning in the subtropical and temperate regions of Australia will need to identify the critical characteristics of savanna vegetation types (e.g. historical fire regime, fuel components, fuel accumulation, burning efficiencies, emissions factors for CH4 and N2O) and focus on details of the prescribed burning fire regime (timing, frequency and intensity of burning) within each savanna vegetation type. Secondly, the dynamics of organisms such as termites and nitrifying/denitrifying bacteria and their roles in carbon sequestration (in soils and biomass) and GHG emissions in these ecosystems will also need to be established and quantified. Lastly, a baseline reference period will need to be established which accommodates the historical variability of fire occurrence in these vegetation types to enable measurement of gains and losses under the methodology.
This paper presents a critical review of these factors and provides a template for ongoing discussion around the feasibility of developing a savanna burning methodology for other parts of Australia to assist in quantifying Australia's contributions to GHG emissions reduction and climate change abatement. The paper also informs policy development in other countries that are intent on developing similar emissions reduction strategies.
Declarations
Authors' contributions
All four authors conceptualised and designed the study. GG collected papers and contributed to the conceptual framework. TNM wrote the paper. KRS and AA modified the paper and revised it critically. All authors read and approved the final manuscript.
Acknowledgements
This project was conducted with the financial assistance of the South Burnett Regional Council, Queensland, Australia, for which we extend our sincere appreciation. We cordially thank anonymous referees for their highly valuable suggestions which were gratefully acknowledged.
Competing interests
The authors declare that they have no competing interests.
Open AccessThis article is distributed under the terms of the Creative Commons Attribution 4.0 International License (http://creativecommons.org/licenses/by/4.0/), which permits unrestricted use, distribution, and reproduction in any medium, provided you give appropriate credit to the original author(s) and the source, provide a link to the Creative Commons license, and indicate if changes were made.
Authors' Affiliations
(1)
Institute for Agriculture and the Environment, University of Southern Queensland, Toowoomba, Australia
(2)
Natural Resources Management and Parks, South Burnett Regional Council, Queensland, Australia