Advancing reference emission levels in subnational and national REDD+ initiatives: a CLASlite approach
Carbon Balance and Management
2015
10:5
Received: 12 September 2014
Accepted: 15 January 2015
Published: 3 February 2015
Abstract
Conservation and monitoring of tropical forests requires accurate information on their extent and change dynamics. Cloud cover, sensor errors and technical barriers associated with satellite remote sensing data continue to prevent many national and sub-national REDD+ initiatives from developing their reference deforestation and forest degradation emission levels. Here we present a framework for large-scale historical forest cover change analysis using free multispectral satellite imagery in an extremely cloudy tropical forest region. The CLASlite approach provided highly automated mapping of tropical forest cover, deforestation and degradation from Landsat satellite imagery. Critically, the fractional cover of forest photosynthetic vegetation, non-photosynthetic vegetation, and bare substrates calculated by CLASlite provided scene-invariant quantities for forest cover, allowing for systematic mosaicking of incomplete satellite data coverage. A synthesized satellite-based data set of forest cover was thereby created, reducing image incompleteness caused by clouds, shadows or sensor errors. This approach can readily be implemented by single operators with highly constrained budgets. We test this framework on tropical forests of the Colombian Pacific Coast (Chocó) – one of the cloudiest regions on Earth, with successful comparison to the Colombian government's deforestation map and a global deforestation map.
Keywords
ChocóColombiaDeforestationForest coverForest degradationREDD+Reference emissions
Background
Reducing emissions from deforestation and forest degradation, and enhancing the carbon stocks (REDD+), remains a key strategy for mitigating climate change. Unlike many previous conservation efforts, REDD+ is constructed on the principles of additionality against a baseline or reference emission level (REL), with no displacement of emissions to neighboring areas (leakage). It is noted here that the United Nations Framework Convention on Climate Change (UNFCCC) and the World Bank's Forest Carbon Partnership Facility (FCPF) use the term REL, while the Verified Carbon Standard (VCS) applies the term baseline. They are synonymous, as long as they are reported as greenhouse gas emissions in units of tons equivalent to CO2 (tCO2e). REDD+ intends to follow a hierarchical nested approach where project, subnational, and national initiatives contribute to the reduction in emission from deforestation and degradation. A consistent system that works across scales is therefore important for operationalizing REDD+, ensuring no displacement in the emission, and also to avoid potential double counting issues. The UNFCCC in its Warsaw Framework for REDD+ [1] specifies that such national forest monitoring systems "should provide data and information that are transparent, consistent over time, and are suitable for measuring, reporting and verifying anthropogenic forest-related emissions by sources and removals by sinks, forest carbon stocks, and forest carbon stock and forest area change".
The role of remote sensing in measuring and monitoring forest area, and assessing its structural and functional attributes, has been well documented [2-4]. However, the REDD+ projects are often located in the humid tropics where a number of prevalent atmospheric and ground conditions, such as cloud cover, haze and uneven topography, often disrupt a satellite sensor's ability to provide high quality observations of the land surface [5]. Moreover, spatial infrastructure, data access and technological expertise are key determinants of remote sensing capacity in countries within the tropics. This data limitation problem has been heavily reported and continues to be discussed [4-10]. Although operational monitoring of deforestation is reasonably possible with medium resolution remote sensing data such as Landsat, as evidenced from the Brazilian government's program [11], establishing such a scheme at global scale is still underway. Progress has been made by the Global Forest Change program [12], and recent initiatives such as mapping of annual deforestation rate using Landsat data in the Congo basin [13], Sumatra [14], Colombia [15] and Peru [16] are also notable in this context. More importantly, such a system must make use of the satellite image pixel-based time series data compositing to minimize cloud, haze and other atmospheric artefacts that severely limit Landsat and other medium-resolution optical satellite data.
Here we report on the performance of a forest cover and deforestation mapping tool developed by Asner et al [17] for the operational monitoring of REDD+ landscapes in order to advance the readiness activities in carbon accounting frameworks. CLASlite is intended for a non-expert user to quickly assess the regional distribution of forest cover, deforestation and degradation. This makes it particularly appropriate for the establishment of sub-national to national reference levels in tropical regions with reduced satellite image quality and technical resources. CLASlite is intended to help the REDD+ community achieve rapid and reliable estimates of forest cover and deforestation. Here we test the efficacy of CLASlite in the context of new developments with sub-national and jurisdictional REDD+ initiatives. We also report on the performance of some new CLASlite modules such as the reduced masking option and deforestation artifact remover, and we elaborate on their effects on REDD+ reference levels and give recommendations for good practice. Furthermore we compare our mapping results with those of the Colombian national Institute of Hydrology, Metrology and Environmental Studies (IDEAM) [15] and of the new global maps recently made available by Hansen et al. [12].
Study area
The study region includes the Colombian municipality of Ancandi and the northern portion of Unguía, in the Department of Chocó. The southern border is formed by the common area coverage of Landsat image scene path-row 10 / 54 (Figure
1
), with an area of about 1,900 km
2
. The approach presented here can be scaled up to regions of varying number of scenes and sub-national dimensions.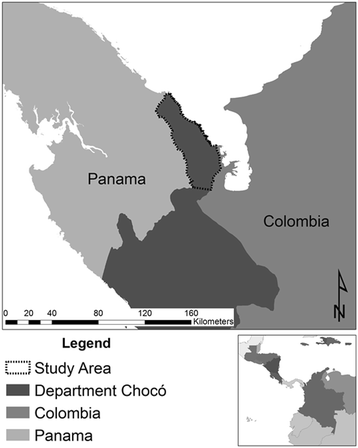 Several municipalities form the northernmost portion of land of the Department of Chocó. They are bordered to the west by Panama's Darién province and to the east by the Urabá Gulf of the Caribbean Sea, where the Rio Atrato forms a distinct delta known as "Bocas del Atrato" within the municipality of Turbo in neighboring department of Antioquia. Apart from logging, small-scale agriculture, fishery and cattle ranching, land-use in the study area includes illicit crops (Erythroxylum spp.) and activities around trafficking and contraband. Forests in the study region are exclusively humid Neotropical evergreen broadleaf in lowland, sub-montane, and pre-montane elevation ranges (1-1,400 m a.s.l.). Its peninsular geography at the Isthmus of Panama between the Caribbean Sea and the Pacific Ocean results in consistently heavy cloud cover. IDEAM estimates mean precipitation of 2,500-3,000 mm yr−1 in the region [18]. However, the Chocó harbors areas with > 9,000 mm of rainfall annually and is well known to be one of the rainiest regions on Earth. Studies suggest that the southern Department of Cauca (San Miguel de Micay) potentially has the highest recorded rainfall on Earth with an annual mean of 12,892 mm from 1971-2000 [18]. As a result, the Pacific coast of Colombia presents an extremely challenging case for optical remote sensing of forest cover and change. This challenge makes it an excellent laboratory to test new remote sensing approaches, and comparisons between monitoring systems can give us important information on the effects of monitoring design on mapped deforestation and therefore REDD+ reference emission levels [19].
Conclusions
The proposed approach extends the traditional application of CLASlite for forest cover change monitoring and adds to CLASlite's automation, speed, lowered technical barriers and mapping accuracy a new way to address incomplete imagery as a result of from clouds, shadows and sensor-failures. While this study only used automatic cloud and shadow masking of CLASlite, users can also easily decide on inclusion or exclusion of regions of interest, by manually drawn polygons (e.g. to mask smoke from fires distorting fractional cover values).
The proposed framework could support extended spatial and temporal observation coverage of a given region and monitoring period, where incomplete images and sensor failures limit spatial coverage and number of time steps. This may, in turn, contribute to increased validity, reduced workload and cost, and an inclusion of more time steps per monitoring period to capture forest cover change dynamics more aptly. This can also increase the fit of currently proposed regression equations to predict the quantity of future deforestation [20]. The mosaicked fractional cover scene approach can be a useful extension of observable area in time-series with the aim of detecting deforestation with CLASlite 3.0 when a user in a tropical region without cloud free season does not have access to more sophisticated approaches that select the greenest pixel per location [16]. The presented approach also supports experienced CLASlite users with limited resources who wish to expand their observable area in their time steps instantly with techniques already at their disposal.
Fractional cover values per pixel are products of a normalizing, yet iterative process that takes reflectance properties into account to find a best fit from spectral libraries. So, if not obscured by atmospheric phenomena missed by the cloud & shadow masking module (e.g. haze) or partial sensor failures (SLC-off pixel with values in some but not all 6 spectral bands), each pixel has the same validity whether coming from a July or March scene of the year of interest. This is mainly true for seasonal tropical forests, which are a common focus of CLASlite and our case study region.
A limitation to the proposed approach remains the subjective selection of a central scene and its auxiliary scenes to construct a meta-time step. This leaves the possibility that from the central scene not all sub-optimal pixels are masked and therefore are not replaced by mosaicking with the auxiliary scenes even if those would have clear-sky information at this location. Thus, information distorted by atmospheric phenomena (e.g. haze) potentially not accurately corrected in the modules of CLASlite would enter the final mosaic. Such sub-optimal pixels are avoided by more sophisticated approaches that select the greenest pixel per location using NDVI from all imagery taken of the year to generate an annual composite of maximum difference in photosynthetic vegetation (PV) between forests and non-forest land covers [27].
Calculating deforestation rates, we correct for the fact that central scenes are not the same acquisition date per year, by calculating an annual deforestation rate normalized for the number of days between time steps. We justify our recommendation to use absolute values of predicted area of deforestation and degradation for REDD+ REL development instead of rates.
As noted in earlier reviews of CLASlite deforestation outputs [19] and in the User Guide itself [27], the results of CLASlite – whether from a single-scene or multi-scene approach – should be carefully inspected and interpreted. Applying the principle of conservativeness for REDD+ projects – a manual subtraction of perceived false positive change results is always allowable, e.g. by vectorization of results and editing.
Abbreviations
ACR:

American Carbon AutoMCU: Automated Monte Carlo Unmixing algorithm
CAR:

Climate Action Reserve CCBS: The Climate, Community & Biodiversity Alliance
CDM:

Clean Development Mechanism
CLASlite:

Carnegie Landsat Anlysis System lite
DN:

Digital Number
ETM+:

Enhanced Thematic Mapper
EU ETS:

European Union Emissions Trading Scheme
FAO:

Food and Agricultural Organisation of the United Nations
FRA:

Global Forest Resources Assessments
FCPF:

Forest Carbon Partnership Facility of the World Bank
GHG:

Green House Gas
GIS:

Geographical Information System
IDEAM:

The National Institute of Hydrology, Metrology and Environmental Studies or Instituto de Hidrología, Meteorología y Estudios Ambientales de Colombia
INPE:

INSTITUTO NACIONAL DE PESQUISAS ESPACIAIS – Brazilian National Institute of Space Research
MRV:

Measuring, Reporting & Verification
NPV:

Non-photosynthetic Vegetation
NDVI:

Normalized Difference Vegetation Index
PlanVivo:

Forest carbon community certification standard operated by the Plan Vivo foundation, a registered Scottish charity
PRODES:

Project Deforestation (Projeto Desmatamento in port.)
PV:

Photosynthetic Vegetation
REDD+:

Reducing Emissions from Deforestation and Degradation and carbon stock enhancement
REL:

Reference Emission Level
S:

Bare Substrate
SLC:

Scan Line Corrector
TM:

Thematic Mapper
UMD:

University of Maryland
UNFCCC:

United Nations Framework Convention on Climate Change
USGS:

United States Geological Survey
VCS:

Verified Carbon Standard
OLI:

Operational Land Imager
Declarations
Acknowledgments
We thank R. Martin and Patrick Brooke-Bailey for editing of the manuscript. S.J. is supported by the CGIAR Research Program on Forests Trees and Agroforestry. CLASlite is made possible through the support of the Gordon and Betty Moore Foundation, John D. and Catherine T. MacArthur Foundation, and the endowment of the Carnegie Institution for Science. We thank D.V. Giraldo Tirado for his contribution to access of Colombian datasets.
Authors' Affiliations
(1)
Center for Development Research (ZEF), Group Börner, Rheinische Friedrich-Wilhelm University, Bonn, Germany
(2)
Department of Global Ecology, Carnegie Institution for Science, Stanford, USA
(3)
Forest and Environment Program, Center for International Forestry Research, Bogor, Indonesia
Copyright
© Reimer et al.; licensee Springer. 2015
This is an Open Access article distributed under the terms of the Creative Commons Attribution License (http://creativecommons.org/licenses/by/4.0), which permits unrestricted use, distribution, and reproduction in any medium, provided the original work is properly credited.